Direct access to Yurakucho / Ginza station. Less than a minute walk from the station.
Open until 21:00 on weekdays.
Open on weekends, and holidays.
Clinical subjects
Telemedicine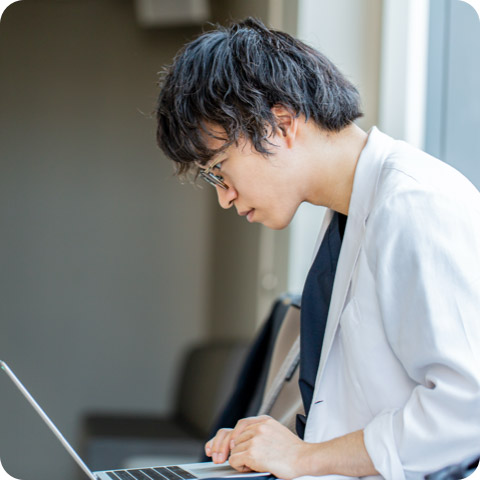 We have started online medical treatment so that those who come to the CLINIC FOR group can receive medical treatment more conveniently.
Even if you cannot come to the clinic. You can conveniently receive medical treatment wherever you are, and we will deliver the necessary medicine or prescription to your home.
* Prices for online medical treatment are different from the fee for face-to-face medical treatment at our clinic.
View the details
For the first time
We provide Japanese public insurance medical treatment and also medical treatment by own expense. If you need to receive medical treatment under Japanese public insurance, please bring your health insurance card.

Medical institutions like us are obliged to check the health insurance card every month. Please show your health insurance card at the reception when you come to the clinic.
In the CLINIC FOR Group, we treat people aged 10 and over in internal medicine and allergies, and people aged 6 and over in dermatology.

Although it is possible to come to our clinic without a reservation, the waiting time will be shorter if you use the online reservation because the patients who have reservations are given priority.

Please make a reservation online in advance and enter an online medical questionnaire before coming to our clinic(both will lead to shorter waiting times).
For the first visit, it will take time to register the electronic medical record, so make a reservation if possible. We would appreciate it if you could come about 10 minutes before the reservation time.
For the second time
Basically, the flow of medical treatment is the same from the first visit.

You can come to our clinic without making a reservation, but in order to shorten the waiting time, we would like you to make a reservation at our website.
Medical institutions like us are obliged to check the health insurance card every month. Please show your health insurance card at the reception when you come to the clinic.
Please bring your patient registration ticket.
Clinic Hours
The final reception time is 30 minutes before the end of the examination.
Our Quality
We are a patient-first clinic that values both health and time of our patients
We are open for 7days a week

Open until 21:00 on weekdays.
Until 18:00 on weekends.

Less waiting time

Online reservation will reduce the waiting time.

Direct access to Yurakucho station

Direct access to Yurakucho station.

Only you need is just a smartphone

Reservation, patient registration ticket, payment can be done with your smartphone

Thorough utilization of technology

Test results come with the app. Online medical questionnaires are also available.
Facility
Clinic For Yurakucho is located right next to Yurakucho / Ginza Station.
5 minute walk from Hibiya station.
Please feel free to visit us if you have any sudden illness.
CLINIC FOR Yurakucho
〒100-0006
2-7-1 Yurakucho Itocia Plaza B1F, Yurakucho, Chiyoda, Tokyo, Japan
Clinic hours
Weekdays

10:00〜14:00, 15:30〜20:30

Weekends and holidays

Closed
Access
Booking Comfirmation
Reservations are not confirmed nor changed at the clinic counter. You can manage your reservations in MY PAGE or from confirmation e-mail.
Click HERE to go to MY PAGE.
Hospital Partnerships
In case you need specialized treatment,
the Clinic For Group will refer you to a specialized medical institution (university hospital, etc.) based on your wishes.
We have a close cooperation with the following medical institutions, so if you have a request for specialized treatment, or if your doctor decides that you need hospitalization or detailed examination, we can introduce you.
In particular, we are in close cooperation with Saiseikai Central Hospital, and all examinations that can be performed at Saiseikai Central Hospital (CT, MRI, endoscopy, abdominal echo, etc.) are reserved directly from our group.